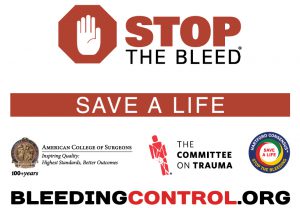 FAST EMS is excited about launching a brand new training program called "STOP THE BLEED" 
We are all aware of recent events in the news regarding gun violence especially mass shootings like what happened on the Danforth this past Summer.
Bleeding is the leading cause of death from trauma and knowing how to control a severe bleed is vital.
What Everyone Should Know, to Stop Bleeding After an Injury
This is the focus of the "Stop The Bleed" program. This course takes the latest research from the US Military Medicine with regards to effective immediate control of severe bleeding.
By developing a short concise course covering both the theory and practical skills needed to control bleeding.
Background:
Motivated by the 2012 tragedy in Sandy Hook and multiple tragedies that have occurred in the ensuing years, what has become known as the Hartford Consensus was convened to bring together leaders from law enforcement, the federal government, and the medical community to improve survivability from manmade or natural mass casualty events. The resulting injuries from these events generally present with severe bleeding which, if left unattended, can result in death. The participants of the Hartford Consensus concluded that by providing first responders (law enforcement) and civilian bystanders the skills and basic tools to stop uncontrolled bleeding in an emergency situation, lives would be saved. The first responder program has received a very good response and is widely being used across the country.
The next step is to focus on the needs of civilian bystanders.
THE HARTFORD CONSENSUS
The Joint Committee to Increase Survival from Active Shooter and Intentional
Mass Casualty Events was convened by the American College of Surgeons in
response to the growing number and severity of these events.
The committee met in Hartford Connecticut and has produced a number of documents with recommendations. The documents represent the consensus opinion of a multi-disciplinary
a committee involving medical groups, the military, the National Security Council, Homeland Security, the FBI, law enforcement, fire rescue, and EMS.
These recommendations have become known as the Hartford Consensus. The overarching principle of the Hartford Consensus is that no one should die from uncontrolled bleeding. The Hartford Consensus recommends that all citizens learn to stop bleeding.
Further information about the Hartford Consensus and bleeding control can be
found on the website: Bleedingcontrol.org
Stop the Bleed more info and course calendar